This mini distro board is able to power up to 4 modules, ideal for Music Easel or other small systems.
It can be used 2 ways :
- Active : connected to a dual +/-15V PSU (Meanwell PD2515 or other), +12V and +5V can be obtained with the very common and inexpensive 7812 and 7805 regulators.
- Passive : connected via an edge connector to a powered board as a multiple. For passive use as a multiple no regulator should be mounted to the board.
Edge contacts are gold plated.
Optional LEDs show each rail is working.
An emplacement allows to short the quiet and noisy grounds if needed.
The 3 pads not PSU-related are interconnected.
BOM
(adapt it to your own needs)
- 2 x 47uF electrolytic capacitor
- 2 x 100nF ceramic capacitor
- 2 x TO-220 heatsink
- 4 x 3mm LED (optional)
- 4 x resistor (optional - value depends on the LED)

Mini distro board for 208

As above but with 2 edge connectors only, for easy mounting into a 4U boat together with a 208, below the sequencer. The ground plane can be a heatsink for the 7812 and 7805 regulators.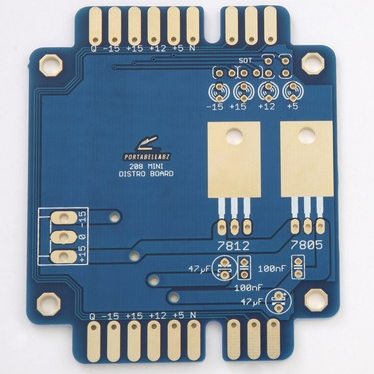 The PCBs come unpopulated and without parts. All uses are at your own risk and I assume no liability for personal injury or damage to equipment or loss of use caused directly or indirectly by the use of any of the PCBs. Although the installation is quite simple it should only be performed by those experienced in electronics.